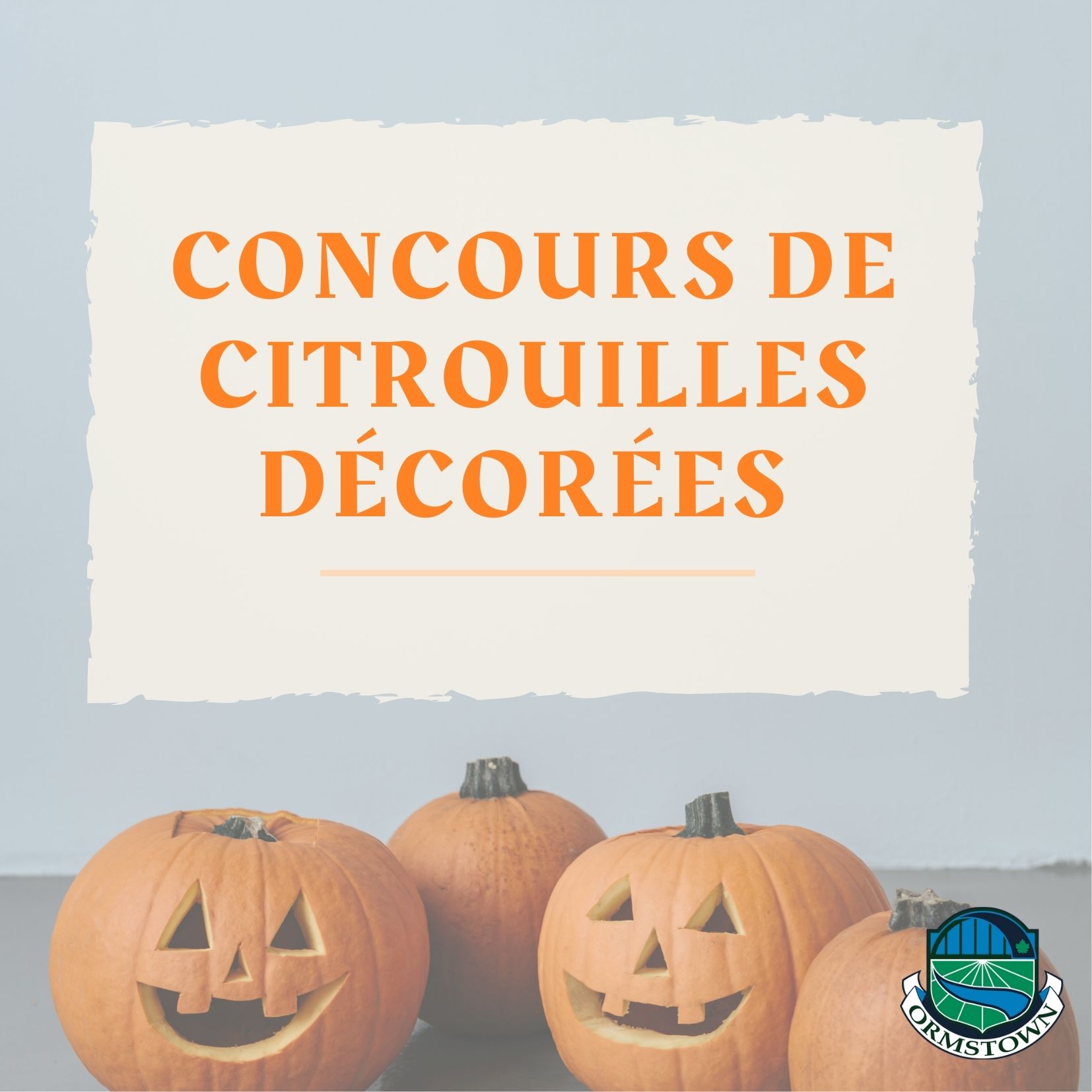 Are you creative and do you like a challenge? To celebrate Halloween, the Municipality of Ormstown invites you to participate in our "𝐃é𝐜𝐨𝐫𝐞 𝐭𝐚 𝐜𝐢𝐭𝐫𝐨𝐮𝐢𝐥𝐥𝐞" contest. Young and old, you are invited to let it go your creativity by transforming your pumpkin. Sculpt, dig, decorate, paint, engrave. Now it's up to you to release your artistic talents and your imagination.
𝐇𝐨𝐰 𝐭𝐨 𝐩𝐚𝐫𝐭𝐢𝐜𝐢𝐩𝐚𝐭𝐞 ?
Share the photo of your decorated pumpkin in the comments. You will have to indicate the title of your creation and the materials used. You can also send us your photos at :
adj.com
@ormstown.ca. We will post your photo on our Facebook page.
𝐒𝐞𝐥𝐞𝐜𝐭𝐢𝐨𝐧 𝐜𝐫𝐢𝐭𝐞𝐫𝐢𝐚
Originality
Render quality
Integration of recycled materials
Originality of the title
Must be a citizen of the Municipality of Ormstown.
𝐏𝐫𝐢𝐜𝐞:
1st prize: Decadent gift basket (valued at $ 100)
2nd prize: $ 50 gift card at a local store
3rd prize: $ 25 gift card at a local store
Winners will be announced under the Facebook post on Friday, October 29. In addition, each of our winners will receive their prize via a special delivery to their home during the day.
 𝐃𝐞𝐚𝐝𝐥𝐢𝐧𝐞 𝐭𝐨 𝐩𝐚𝐫𝐭𝐢𝐜𝐢𝐩𝐚𝐭𝐞: Thursday, October 28 at 4 p.m.
Good luck to all of our citizens.
Plus de détail sur notre page Facebook.